It's one creative company from Cicognara, Italy.
Seletti
has been producing and distributing gifts, decorations and furnishings of original and new ideas since 1964.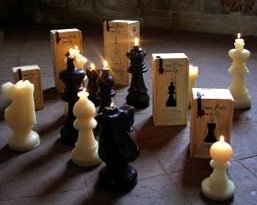 I found their
Trash-Chic
dustbin liners at
Qconceptstore
in Bangkok, Thailand. They are basically designer garbage bags, comes in 5 different patterns (see pic below). Each liner measures 70 cm x 110 cm. But really, it's just too pretty for garbage.... Hmmmm, how about if we trim its bottom and put it flat on a picnic table? Well, you might need few liners to cover one picnic table, but it all depends on how much you want to cover. It costs 265 Baht, which is equivalent to USD 7, for a pack of 10 liners. It sounds like a good bargain to me for disposable table liners. ;-)
Check out
Seletti
's quirky objects and candles, too. They are so fun!